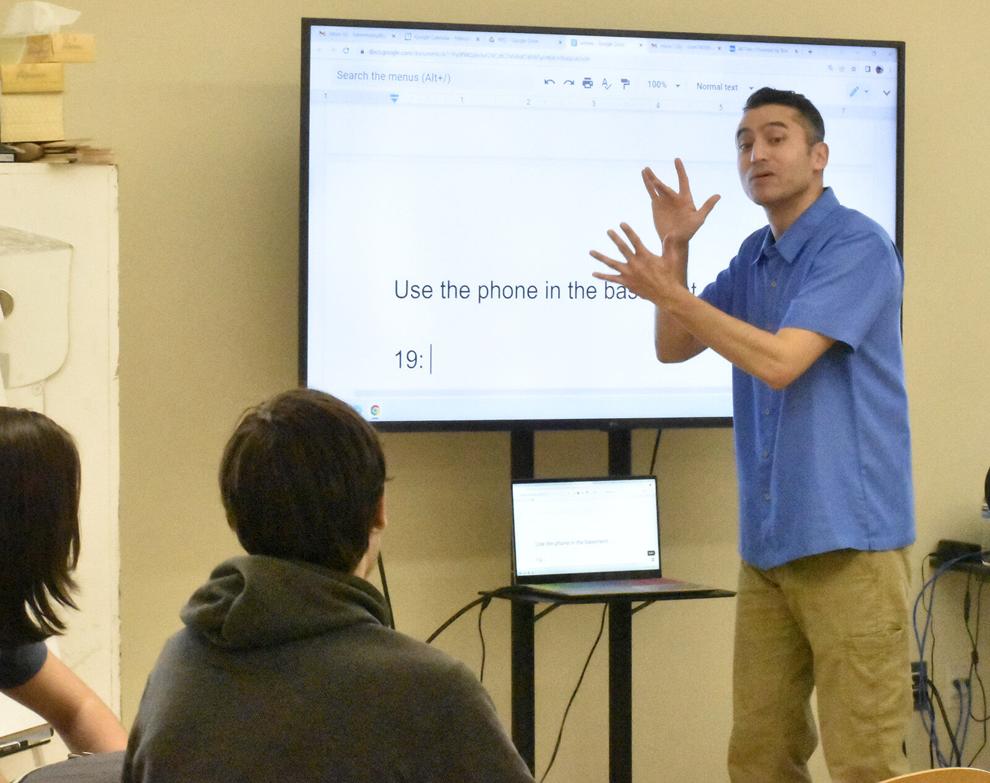 A small group of students at Vernonia High School are getting a unique opportunity to learn American Sign Language from Pacific University instructor Fred Stamps.
The students are enrolled in VHS's Project Based Learning class, formerly taught by retired instructor Jim Krahn and now under the direction of Brett Costley. Stamps says he agreed to teach an ASL class for Vernonia High School students as a favor to his friend Olivia Keister, Vernonia's German Language and Drama instructor.
Stamps says he believes teaching is all about building relationships with your students. "If you don't have a relationship with each student, you're not going to reach them or get them interested in what you have to say. I forget who said the quote, but it's, 'People don't care how much you know, until they know that you care'. So you have to show genuine interest and concern for each individual student – you have to connect with them."
Stamps had a good reason to first learn and become proficient in ASL – his wife of almost 20 years is deaf and an electrical engineer at Intel. He's been teaching ASL for the last 15 years, initially at a small private school in Beaverton, Edison High School, and more recently at Pacific University.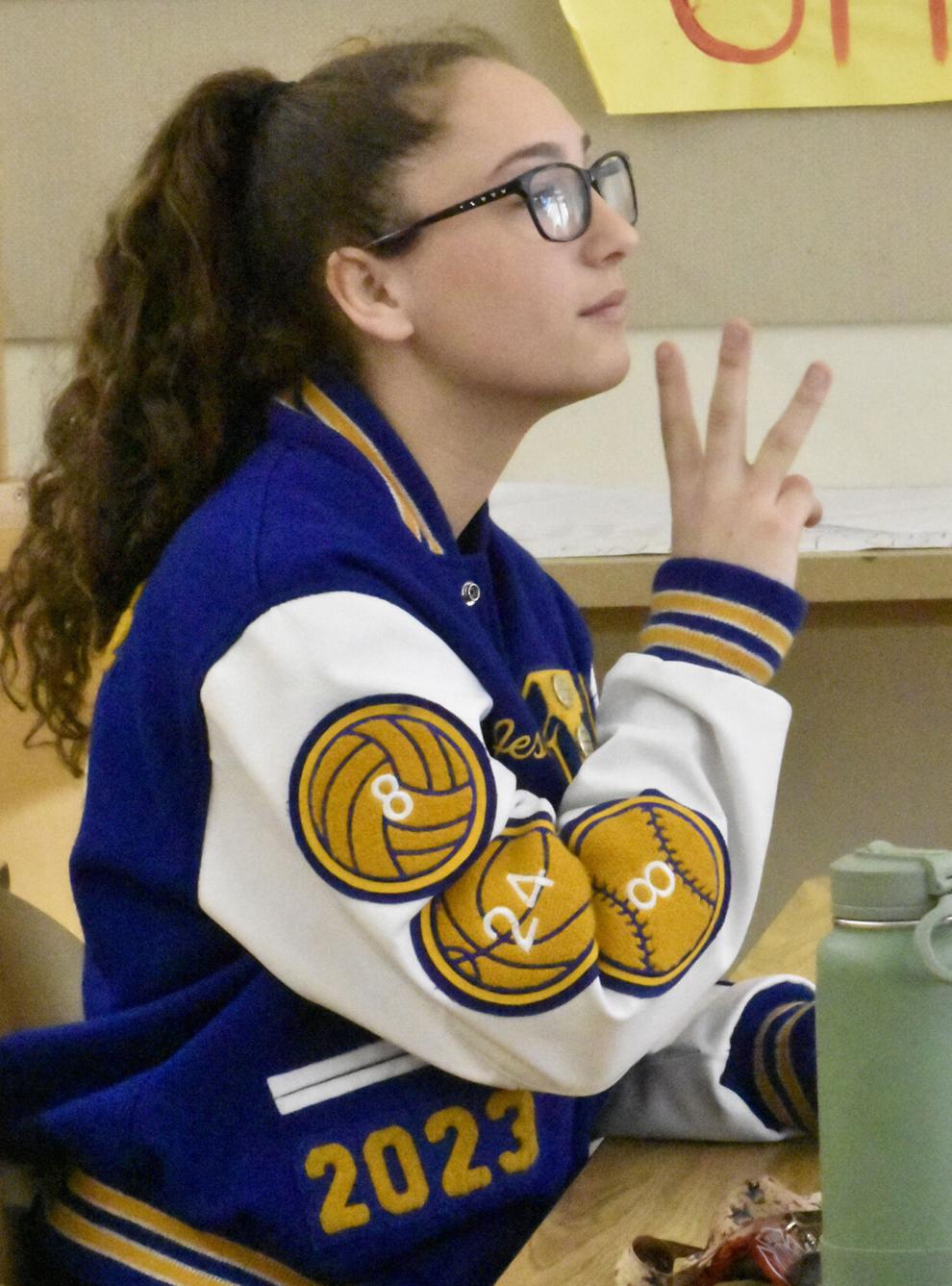 ASL is a visual language. In signing, linguistic information is conveyed through the eyes and facial expressions, and through body movements, especially the hands.Stamps says ASL is easy to learn for a number of reasons – you don't have to conjugate adjectives, verbs, and nouns as much as in other languages, and because it is non-gendered, like English.
Stamps was born in a suburb of Denver, Colorado to an Air Force father and Filipino mother who moved the family to Oregon, eventually settling in Forest Grove when he was just two. When he was 19 he moved to Japan for two years, followed by three years in Hawaii, and earned a Bachelors Degree in English and a Masters Degree in Education.
Stamps says, while finding a place to get an education in ASL is actually difficult, he thinks his background has helped make him a better teacher. "I really feel like getting a Masters Degree in how to teach is immensely important – it's essential, really, as a teacher," he explains. "I think it's important to be adroit at knowing how to make the information you are trying to teach readily accessible to your students. As far as learning to teach ASL, being married for the last 20 years to a deaf person is where most of my education has come from."
He also credits his time in Japan, where he learned Japanese, as helping with his teaching. "The American State Department classifies Japanese as one of the hardest languages for a native English speaker to learn, along with Arabic, Korean, Cantonese, and Mandarin," he notes. "So I thought, if I could learn Japanese, I can definitely learn ASL," which is considered one of the easier languages to learn, along with Spanish and Norwegian.
When he's teaching ASL to his students, Stamps uses a technique called non-targeted instruction, meaning he doesn't come into each class with a vocabulary list for his students to memorize or a set of grammar rules. He bases his teaching on the work of Dr. Stephen Krashen's theory of second language acquisition, and Krashen's approach called 'comprehensible input'. "The way we learn languages is by understanding what is being said, not how it is being said," explains Stamps. "Forget about grammar rules, but focus on understanding the message."
He says there are three keys to learning ASL through comprehensible input: the students need to understand what is being signed, so it has to be input that is comprehensible; it has to happen in a low anxiety setting and not through forced output; and the message has to be interesting, even compelling, and contain things the students are really interested in.
"Usually the way languages are taught, is frankly wrong," says Stamps. "We force output [being called to the front of the class to demonstrate proficiency, for example], and don't allow for a pre-production period or silent period, and it causes anxiety. Instead we should focus on giving the student a flood of comprehensible input, where they can understand what is being said and that way of learning is low anxiety for them. If we create anxiety then students stop learning."
During the day I visited his class, Stamps used two different exercises or games to help his students learn. "I want to make the message as interesting as possible," says Stamps. One exercise involved students creating a story together. "They create the content," he explains. The students were given a situation – they are lost in the woods and become surrounded by a pack of hungry wolves. "And I ask them in ASL, 'what are you going to do?'" Students provided action items in English, because they are not yet proficient themselves in ASL, and then Stamps signs their responses, and types them in English, because ASL doesn't have a written form, into the computer, which displays on a screen, so they can stay engaged with the story's progress. Each action item has an element of chance, a roll of a 20 sided dice informs them whether their action is successful or not. As part of their action items, students are encouraged to use words they have previously learned, and Stamps will repeat the signs several times to create repetition. "So we don't know where the story is going to go," explains Stamps. "In my experience this provides a much richer foundation in their vocabulary."
The second game was 20 Questions, where the class needed to figure out who a "Mystery Person" was by asking yes or no questions, while receiving a few hints. Stamps wrote the questions on the board while also signing them, and signed and wrote the responses.
Instead of forced output, what Stamps hopes to see in his classroom is spontaneous output – students choosing to sign along with him when they hear words they recognize.
Stamps says there are between 500,000 and 2 million people in the United States who use ASL as their primary language – he says there aren't very accurate statistics for the exact number. He says there's been a growing interest in learning ASL in both high schools and colleges over the last several decades. But Stamps thinks students learning any second language, whatever it is, has value. "What's important is the decision to expand your horizons and reach beyond your own language and culture. My personal philosophy about teaching is that, instead of focusing on needing to learn a specific and immediate skill, we need to focus on making life-long learners – young people who are interested in learning, whether they think they will need that skill later on in life or not. I suggest people learn everything they can, about everything they can. And knowing any second language is beneficial."
Stamps says he's using the extra money he's earning while teaching in Vernonia to help support Ukrainian refugees; last summer he and his two teenage children traveled to Ukraine and spent six weeks working in refugee camps, passing out food and clothing and buying things like phones for people who have been displaced and lost everything. This year he's focused on supporting the efforts of other volunteers still in Europe, and trying to find regional families in Oregon who are willing to host Ukrainian refugee families. "In particular, there is a 39-year-old single Ukrainian woman, Lyudmila, we are trying to find a sponsor for so that she can come to the United States. She is currently in a refugee center in Poland. I have found a volunteer who is willing to pay for her flights, but we need someone who is willing to host her in their home. There is also a married couple, Usmam and Marina, ages 35 and 31 who are looking for a sponsor. They are currently stuck in the country of Georgia. They don't need financial support, just an American willing to be their official sponsor, so they can enter the country."
"This is the first time I've had the chance to spend much time in Vernonia," says Stamps. "I found it such a beautiful little town. I just love this school building. And I love the character of the town – driving down the main street. It's just such a joy to come here and associate with the community here."
Anyone interested in supporting Fred Stamps's work supporting Ukrainian refugees or in sponsoring either Lyudmila or Usmam and Marina can email Fred at fcstamps@gmail.com .