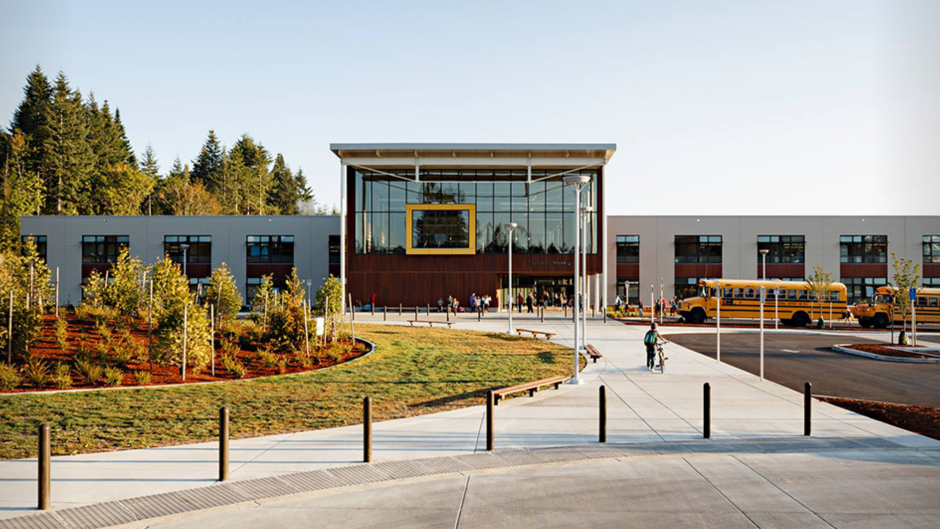 Public Comment – German and drama teacher Olivia Keister expressed concerns about the Menstrual Dignity Act and how supplies are being treated by students. She asked if the District could get more clarification about how to best implement it. The Board later agreed to discuss the issue at their next meeting.
Principal Reports – Elementary Principal Michelle Eagleson welcomed Jenessa MacDonald, the new 4th grade teacher, and said all teacher positions have been filled at the Elementary School.
Middle/High School Principal Nate Underwood reported Mrs. Peterson and the Vernonia Music Program performed a well-received December concert. Underwood welcomed Sawyer James Nelson, born to high school math teacher Alexis Scott, to Logger Nation. Underwood reported students were preparing for the Winter Formal on January 14 at the Vernonia Scout Cabin. Underwood welcomed Raynett (Rae) Mann who was hired to assist as an instructor in the Structured Learning Center. Underwood reported students will be able to participate in a Fire Science class this spring and said students in the Project Based Learning Class are receiving sign language instruction. Underwood announced the purchase of a new forklift and a new welding system for the CTE program.
Vice Principal Rachel Wilson reported continued positive feedback for the Tier 3 classroom and the work by Instructor James Helmen, and assistants Camrin Eyrrick, Victoria Leonetti, and Jenn Schram.
Special Education Director Suzanne Myers provided a report which included recently released data from the Oregon Department of Education from school year 2021-22. The report showed the Vernonia School District served 94 students through their Special Education programs along with the scope of disabilities of the District's students. The report showed that 69 of students in the program spend more than 80 percent of their school day in their regular classrooms.
Superintendent Report – Superintendent Jim Helmen provided a written report that discussed the Community Input Forum the District held on December 13, which had 36 people in attendance. Helmen reported that community members identified the following as most important to them, ranked highest to lowest:
• CTE/expanded options for students
• Job/career focus after high school
• Hiring and retaining quality teachers/competitive salaries
• District-wide attendance focus
• Heavier focus on non-college bound students/trades
• Improving academic scores
• After school programing options
• Dismissal time
• Funding a full maintenance team
• Full year calendar
Helman also provided priorities that came from student input:
• Access to therapists
• Ask students if they need help
• Remove 90 minute class blocks
• Recruit more diverse staff
• Add swimming and soccer sport options
• Provide a designated location for LGBTQ students
Helmen also provided information shared from the community through an on-line Thought Exchange which generated the following snapshot:
The district is losing staff because the district has yet to offer a competitive salary in comparison to surrounding districts. But, money matters, and quality teachers are leaving as a result. Expanding CTE programs (which include consumer economics, early childhood, and medical) in middle and high school needs to be the primary focus. Hence, kids have more options for technical aid programs. The school district needs a new sport, a suggestion should be soccer. Swimming is also a great way for students to enjoy one of their favorite activities. There should be more water bottle fillers outside each bathroom. Behavior issues have significantly decreased, but cell phones remain a concern for many. The district culture has become very positive, and the expectations for students and staff have increased and are visible.
Board Approves Resignation and Retirement – The Board voted 7-0 to accept the resignation of Jim Krahn as a teacher, effective January 6, 2023, following the passing of his wife Marie. Krahn said he hopes to continue being involved in the District as a coach and substitute.
The Board also voted 7-0 to accept the retirement of Vice Principal Rachel Wilson, effective January 19, 2023, although Superintendent Jim Helmen told the Board Wilson's retirement is only on paper and she will continue in her position with the District through a work-back program.
Board Approves Athletic Co-op Agreement – The Board voted 7-0 to accept an athletic co-op agreement with Banks High School to allow two girls from Vernonia High School to compete as part of the Banks girls golf team, because there are not enough students to create a team at VHS.
Board Elections Announced – Executive assistant Barb Carr informed the Board that three positions on the Board held by Greg Kintz, Amy Cieloha, and Scott Rickard will be up for election in the May 16, 2023 election. All three positions are for four year terms. Carr said information for anyone interested in running for the positions will be on the District website, www.vernoniak12.org.
Helmen Recognizes School Board Appreciation Month – Superintendent Jim Helmen took time to recognize January as School Board Appreciation Month, and thanked the Board members for their service to the District and the community.