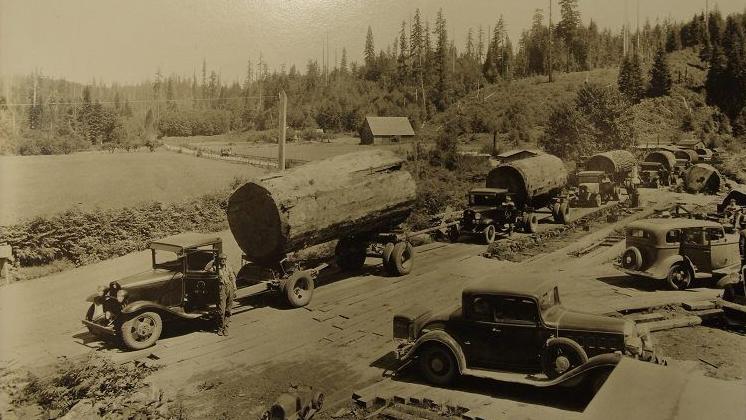 Businesses continued to thrive in 1923 as the mill construction progressed. By this time, over 50 commercial enterprises were in operation. The Chamber of Commerce was busily recruiting these establishments to join in their efforts to promote local business and the general economy of the city.
Having customers who paid their bills on time was also a priority. In those days, decades before all-purpose, bank-issued credit cards were the norm, customers could put purchases on an account at the store with the expectation that the total amount charged would be paid in full by month's end. There were, however, customers referred to as "deadbeats" who didn't pay their accounts promptly.
To address this situation, a new Merchants Protective Association was established by 20 local businessmen to regulate customer credit with a uniform set of guidelines for issuing credit to customers. Each business agreed to send out statements each month, and "any accounts running longer will be with the sanction of the Association." Every customer would be classed as Good, Slow or N.G., the latter class not likely to be granted credit. The Protective Association also established operating hours for all businesses. They were to close by 6:30 pm except Wednesdays and Saturdays, and all were to be closed on Sundays.
Thanks to the lush pastures of the Upper Nehalem Valley, dairying was an important part of the local economy. For some families, the only cash income was from the cream they sold to larger creameries for butter production. Unlike milk, pure cream, a saturated and lactose-free fat, could be shipped longer distances without refrigeration. As we discussed in our February 2017 column, one of the chores often assigned to farm children was to chop up root vegetables the family grew and feed them to the cows along with their hay each morning. The enriched diet increased the butterfat content of the milk which resulted in a higher return for their efforts. Excess milk was fed to the pigs and other farm animals.
Separating the cream from the milk was accomplished by the gravity method. Fresh milk was poured into pans and the cream skimmed from the top. Later, mechanical cream separators used centrifugal force to complete the task. It reduced the amount of time the cream was mixed in with milk and thus lessened the chance it would sour. In either case, the cream was put into cans to be picked up by or delivered to distant creameries. Empty pans and separators had to be carefully cleaned each day, a task that also fell to the children.
In a January 1923 edition of the Vernonia Eagle, the Mutual Creamery Company, a Utah corporation, installed a new cream station for the area at the Coyle & Coyle Meat Market. Dairymen could now deliver their cream locally instead of taking or shipping it to more distant creameries in Portland and Clatskanie. Cream was weighed, sampled, tested, and paid for at this station. The station itself was equipped with a steam boiler so the cans could be emptied, washed, and sterilized before being returned to the farm. The collected cream was then sent to Mutual's Portland branch to be processed into butter. This one branch produced over two million pounds of butter in 1922, according to the article.
Other progress reported in that month included the completion of the railroad depot, the planned construction of another 100 new homes, and a healthy level of growth at the Bank of Vernonia.
The future continued to be bright for the growing city.
From Virgil Powell's Diary
Virgil Powell (1887-1963) was a long-time resident whose family had a farm in the Upper Nehalem Valley between Natal and Pittsburg. Each year from 1906 until 1955, he kept a regular diary of his activities. One of the few missing diaries was the one for 1913, the year he and Inez married, so we'll take a sampling from January 1914, an exceptionally wet winter.
Thursday, Jan. 1, 1914. We got home from the Vernonia dance 4.30 A.M. Went to bed till 10 A.M. Did not do much during the day. Pretty fair day.
Sunday, Jan. 4. Took the hide off of a cow the first thing in the morning. Inez & I left for Smiths 11.30 and got up there 3.30 P.M. Certainly had a time getting up there on account of high water. Had to leave the buggy at Armstrongs. Rained awful hard all day.
Monday, Jan. 5. Had to walk home from Smiths on account of high water in the road. Came over the hills to get down to Vernonia. Left up there about 10 and got home 2 P.M. Rained pretty hard all day. River the highest it has been for several years.
Tuesday, Jan. 6. Was over to Elliott place first thing in morning. Inez & Garfield got down here about 1 P.M. Rained awful hard all day.
Wednesday, Jan. 7. Took Pet up to Rays bull the first thing in morning. Jas also over and saw Bill Brown and bargained for a cow. Rained considerable all day. Got back about 1.15 P.M.
Thursday, Jan. 8. Had to go back up to Rays again in morning after Pet (cow) and got back 12. Worked around the barn some in afternoon. Rained some all day.
Friday, Jan. 9. Built a hog trough and also fixed a pen and put two hogs up to fatten. Fixed some walks. Rained some.
Saturday, Jan. 10. Went over to Elliott place. Cut some pigs in afternoon. Rained quite a bit all day. Dance at Vernonia Grange Hall.
Sunday, Jan. 11. Went up to Vernonia after the mail in morning. Brown and I brought my new cow home in afternoon. Had to take Blossom back up to the bull at Rays late in evening. Got back 5.45 P.M. Fine and dandy day. Bill Brown was here over night.
Wednesday, Jan. 14. Was over to Elliott place and fed in morning. Bill Brown brought Nellie & Babe home and I took their shoes off in afternoon. Rained some in afternoon.
The Vernonia Pioneer Museum is located at 511 E. Bridge Street and is open from 1 to 4 pm on Saturdays and Sundays (excluding holidays) all year. There is no charge for admission but donations are always welcome. Become a member of the museum for an annual $5 fee to receive the periodic newsletter. We now have a page on the Vernonia Hands on Art website, www.vernoniahandsonart.org If you are a Facebook user, check out the Vernonia Pioneer Museum page. The museum volunteers are always pleased to enlist additional volunteers to help hold the museum open and assist in other ways. Please stop by and let one of the volunteers know of your interest in helping out.