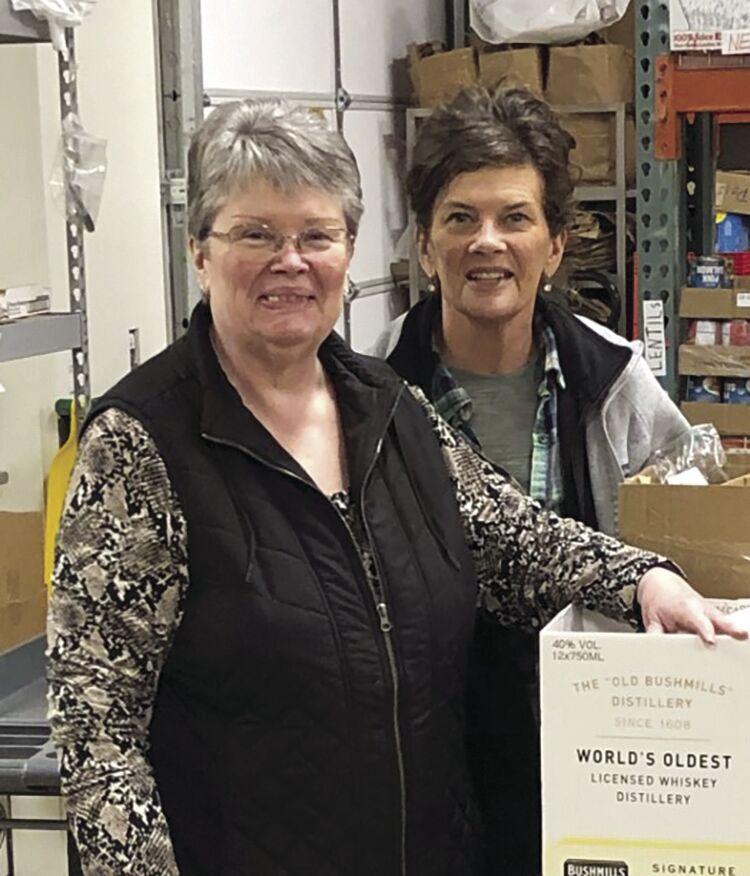 Sandy Welch has seen a lot in her 20+ years in charge of the Vernonia Cares Food Pantry. She's seen her client list grow, witnessed flood waters rise, and watched a new facility be built. She has been the needed helping hand and face of compassion for Vernonia's citizens in need. She's always busy and has been the glue that holds together the newly built and shared Cares/Vernonia Senior Center building.
And now Sandy is ready to step aside, and maybe try to slow down.
"I do plan to continue to volunteer, both here and at the Senior Center," says Welch.
Welch officially retired in October, but you would never know it. She is still a constant presence at the Cares building as she helps ease the transition to new leadership. She also continues to serve as the Secretary for the Vernonia Senior Center. As she says herself, she has a heart to serve, and she will continue to care about the people of Vernonia.
"I have lunch most days at the Senior Center," says Welch. "And I'll often invite seniors to come join me. Because the concern with our seniors is that they become isolated as they age. So I invite them to join me, because sometimes they're afraid if they come to the Senior Center they won't know anyone, and they'll end up sitting by themselves. So I tell them, 'You know me, so we can sit together'."
Welch has turned over her Executive Director position to her daughter Angela Taylor, who was selected by a committee to replace Welch after a hiring search and interview process.
The construction of the new Cares building, along with the Senior Center, was the culmination of Welch's work for the Vernonia community. Previously Vernonia Cares had operated out of the American Legion building on Adams Avenue, sharing the facility through the graciousness of Vernonia's veterans. Situated in one of the most vulnerable spots in town, the building was threatened every time Rock Creek and the Nehalem River would rise, and suffered severe damage during the 2007 flood. Getting Cares moved to a secure location was a decade-long process, completed in 2020, and Welch's crowning achievement in her work for Vernonia Cares. "This building completes me," says Welch. "I can be here at Cares and see and talk to people, and I can do work on the Senior Center side."
These days, Vernonia Cares remains a vital and needed resource in the community. According to Welch's data, in December of 2022 Vernonia Cares served 306 individuals, of which 71 were children and 87 were senior citizens, from 125 total households.
The building offers easier delivery of supplies with a proper loading dock, a separate warehouse for storing and preparing food orders, an accessible office space for meeting with clients, and new walk-in freezer and refrigeration units for storage. The warehouse is loaded with canned and dry goods, fresh fruits and veggies, breads, sanitary supplies, and more. "The loading dock is wonderful for when we have five pallets of food arrive," says Welch.
Welch says the income eligibility guidelines to qualify for assistance from Vernonia Cares remain very liberal. "Just about everyone in Vernonia qualifies for groceries. They are very generous," she says. And so is the amount of food included in an order. Boxes are pre-packed with what is suppose to be several days of basic supplies, but probably could be stretched to a week or more. Clients can then pre-order things they would like specifically from a menu – meats, dairy, and fresh fruits and veggies. Also available for order are personal care items including baby diapers, coffee, cooking oil, dry or canned beans, and pet food. Welch, Taylor, and numerous volunteers then pack those ordered items to be ready for pick up when the client arrives. Welch says no food is wasted; any fruits, veggies, and breads that are left over at the end of the week get picked up and fed to local chickens.
Vernonia Cares gets their food through the Oregon Food Bank, distributed to them and other communities in Columbia County through the Columbia Pacific Food Bank, which arrive twice each month. Breads are picked up over the weekends from regional grocery stores by local volunteers. Local volunteers also supplement the stock with their own purchases and from their own gardens during the growing season. The day I visited, Vernonia Cares had an abundance of fresh veggies that had been purchased by a former client who had experienced homelessness and, now in a better situation, wanted to give back to those who had helped her.
Welch says she had just finished homeschooling the last of her children when the Director position at Vernonia Cares became available. "I had been at home, kind of insulated, for a long time," says Welch. "I'm so glad I did this, because I ended up meeting a whole new circle of people. My goodness, I can't tell you how many people I've met through the years, and I never would have met them if I hadn't taken this job. It's been really good for me."
While Welch has been running the show administratively for all these years, she couldn't have made it work without the help of longtime assistant Tina Dean and the approximately 30 volunteers each month who step up to assist their fellow community members. "We have a lot of volunteers, from the people who help unload freight, to working in the warehouse prepping food boxes, to the folks who drive to pick up our bread, to our Board of Directors," says Welch. "Our volunteers are exceptional people – hard working who will do any task that needs to be done." Recently she says the young Mormon missionaries living in town have been stopping by regularly to volunteer. All of the Cares volunteers logged an average of 278 hours each month during 2022.
"I am one of those, born and raised in Vernonia people, who has lived here almost their entire life," says Welch. "I do love Vernonia. I love the people of Vernonia. And I love to help people. I know that we are feeding people here. That has always been our mission and that satisfies and fulfills me."
Vernonia Cares was recently awarded a $125,000 grant for the purchase of shelf stable foods, with a focus on proteins, and to replace some stand alone storage freezers. Those grant funds have not yet arrived, but will help ease Taylor's transition into her role as Executive Director.
Taylor has also lived in Vernonia for most of her life, and raised her five children here. Most recently she worked as a medical assistant for 10 years before accepting the position at Cares; she was also hired as staff at the Vernonia Senior Center. After watching her mom do the job for 20 years, Taylor wanted to follow in her footsteps. "It's always been a family thing for us," says Taylor. "When my dad was alive, he was always helping out. We always helped with the food drives – I would drive and send my kids door-to-door to pick up the food. I was raised with the values of charity, giving, and helping others. I care about people and I think feeding people is super important."
The transition seems to be going well so far, especially since Welch did such a good job building a strong and caring organization.
"I always say, 'a friend is just someone you haven't met yet, but they can become your friend'," says Welch. "And love never fails, so be nice to everyone. I've made lots of friends here at Vernonia Cares."
Vernonia Cares is open on Tuesdays and Thursdays from 10:00 am to 2:00 pm. For more information call 503-429-1414.