New storefront sells t-shirts, coffee mugs, stickers, and more, along with original art work
Step through the sliding glass door and into Jessie Marie Art Studio and you are dazzled by the vibrant colors that jump out at you, many of them emblazoned with the name "Vernonia". You'll be greeted by the smiling face of Jessie Marie Gehrke, the artist responsible for most of what you see in the store.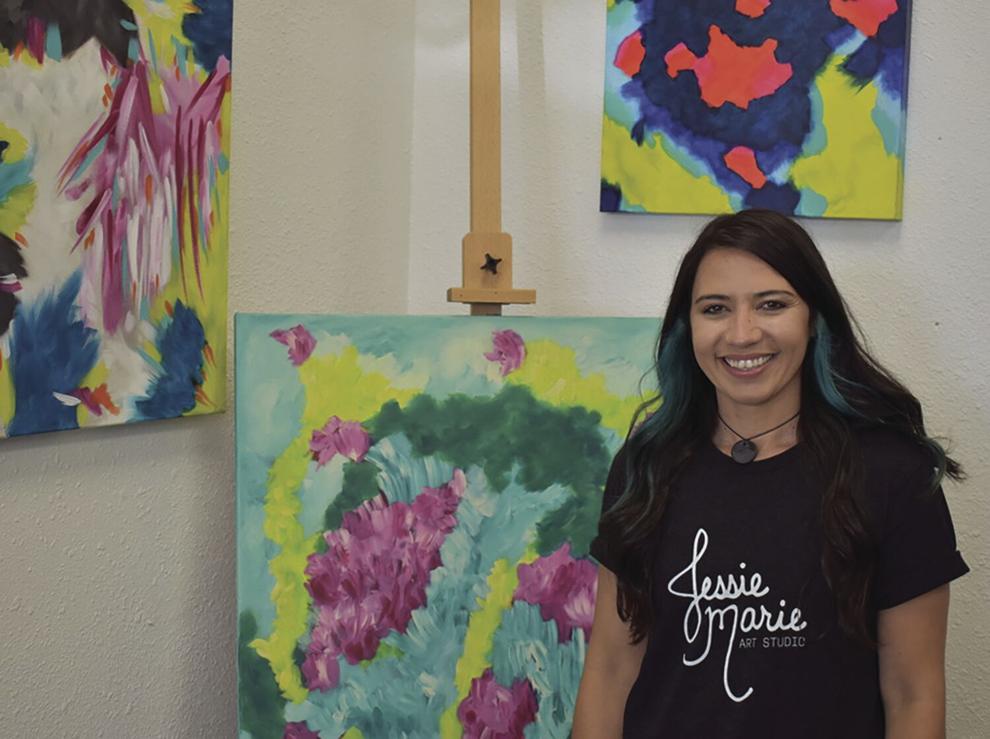 Gehrke celebrated the grand opening of her new retail space on July 1 at 805 Bridge Street. Located in the heart of downtown Vernonia, next door to the Black Bear Coffee shop, you must first enter the laundromat and then step through that magical glass door into a world of color.
In her new storefront Gehrke is featuring her own paintings and prints, along with a featured and local "Artist of the Month." She also sells her own graphic designed art, printed on just about anything you can imagine – stickers, refrigerator magnets, coffee mugs, hoodies, trucker hats, and more. If you're proud of Vernonia, Jessie Marie Art Studio has a way for you to show it!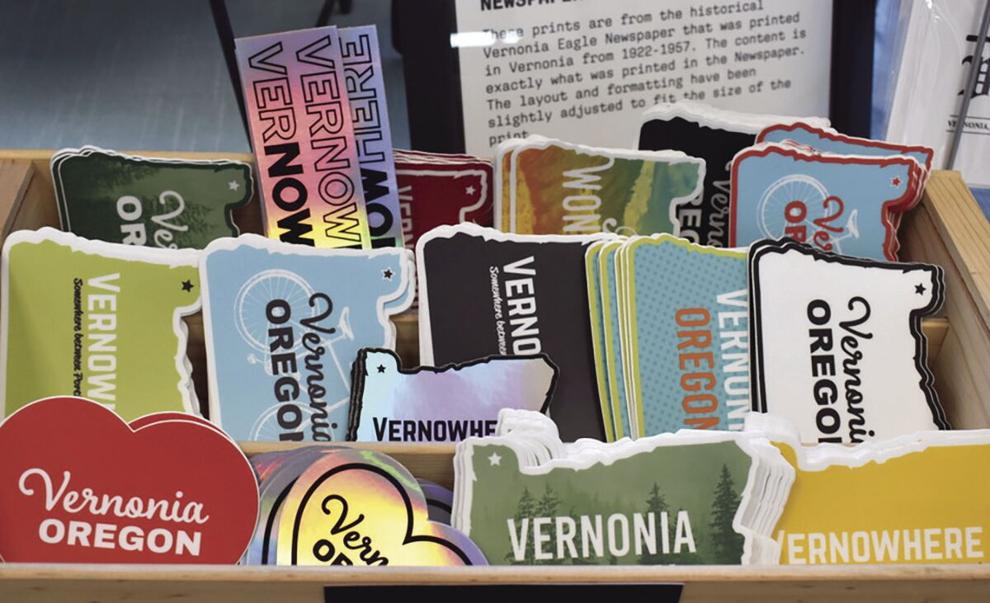 Gehrke is a long-time Vernonian, who moved here when she was six years old, graduated from VHS, and then moved away for a short time, before returning to start a family. She currently lives in North Plains with her two sons, but came back to Vernonia to open her business.
"I was always into art when I was in school growing up in Vernonia," says Gehrke.
During her time after graduation, Gehrke took some general education and a few art classes at PCC before taking online classes through The Art Institute, an online program, and studied fashion design. "I took a sewing class there, and realized I would never do fashion design! So I quit that!" explains Gehrke. After taking a job at a Fed Ex Office store, she learned she really enjoyed working in the printing industry and had a talent for graphic design work. While pregnant with her first child, she returned to The Art Institute, this time to study graphic design, and earned an Associates Degree. She immediately put those design skills to work for the community of Vernonia, designing a new Vernonia Friendship Jamboree & Logging Show logo which was featured on t-shirts at the event for several years.
While taking those classes at The Art Institute, Gehrke says she had the opportunity to explore a number of different art mediums. She later did some free lance graphic design work, "… but I didn't love the consultation part of the job," she says. "People always want you to make exactly what they want, which doesn't allow any creative design on my part. I figured out I wasn't interested in that."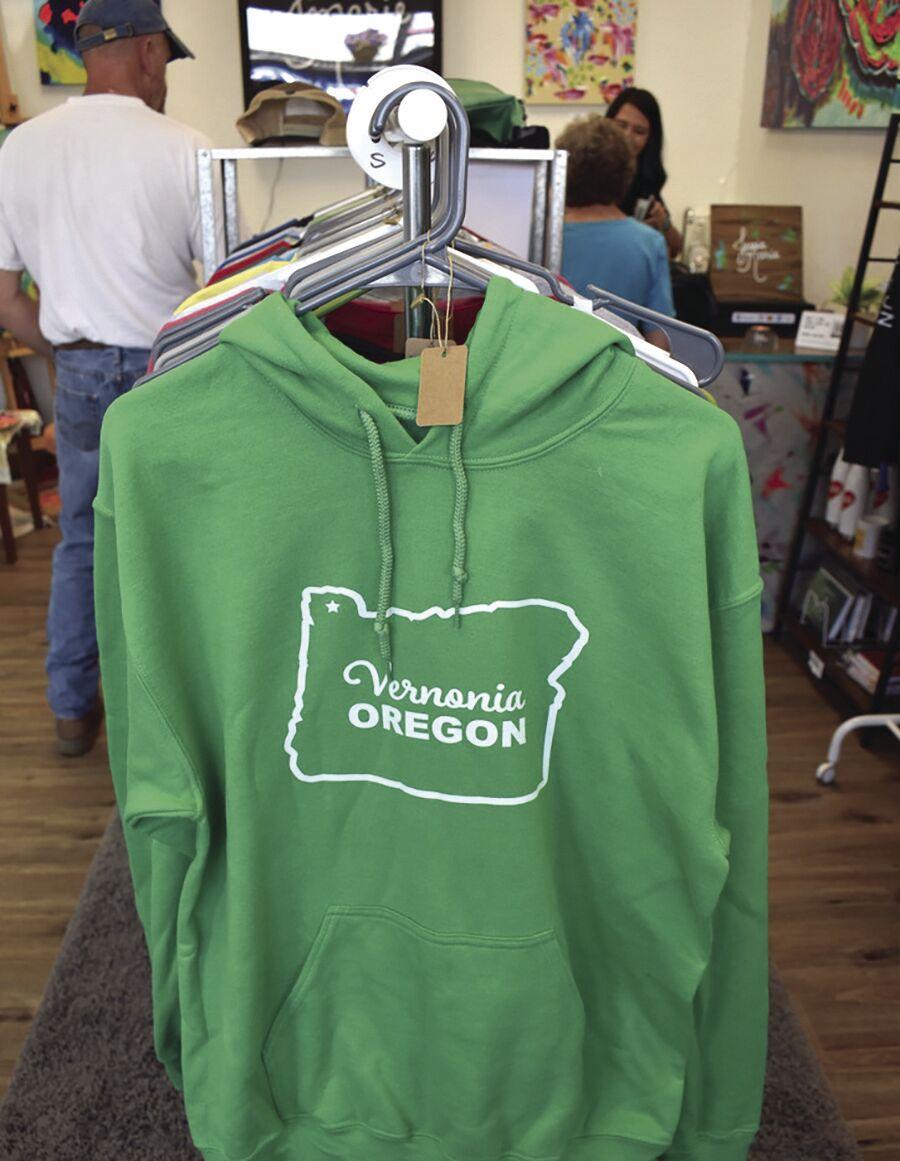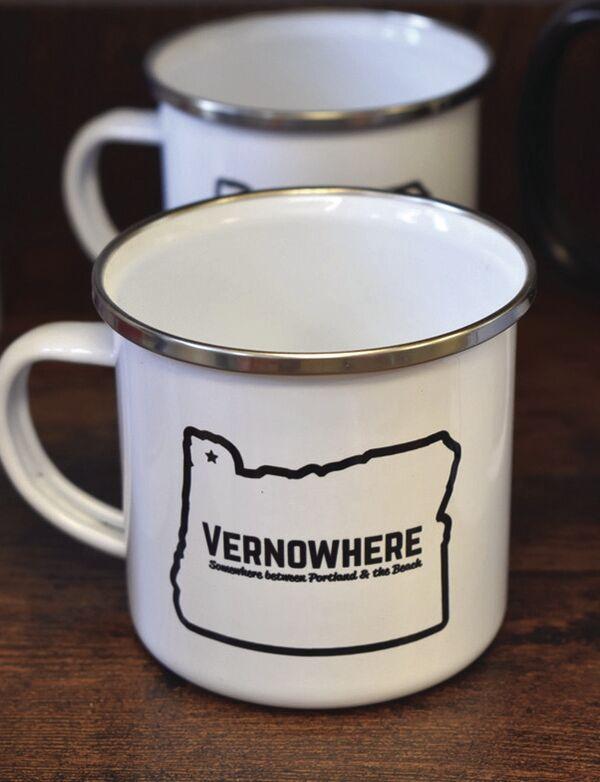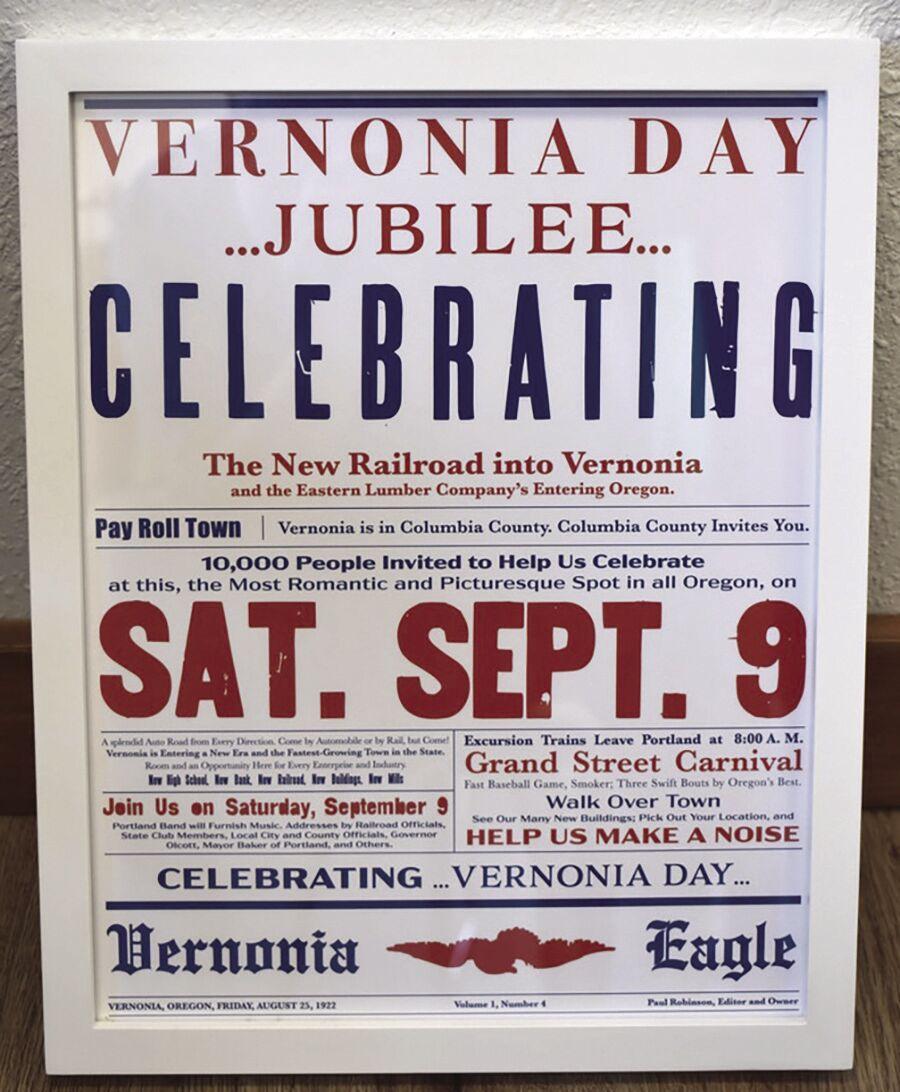 It wasn't until after her father passed away, and quite a bit of soul searching, that Gehrke decided to try painting. "I decided to try and reconnect with and try to find out what my hobbies were again. So I decided to try painting, because it sounded fun, and I found out it was amazing! I found I really liked it and the creative expression it allowed me. It was really liberating and opened me up to trying different things!"
She says this newfound artistic freedom put her onto the path of using her graphic skills to create her own Vernonia-themed designs. She started selling them, first online through her own website, and then at a few local shops, most notably at Black Bear Coffee. "I remember my very first order was for two stickers, and I was so excited. I couldn't wait to get home and put them in the mail! I even made a thank you card!"
She also started attending local events, like the Christmas Bazaar and Salmon Festival, which were very successful for her. "I found that when I was more excited about what I was creating, my work was much better," she says. With her sticker designs a hit, she started putting those designs onto clothing, like t-shirts, which were also popular, especially in other local businesses. "Randy Parrow at R&S Market wanted to carry them, because there wasn't much else out there that had "Vernonia" printed on it," she says.
The next logical step was a storefront, and a great space, right in the heart of downtown, just happened to be available.
The location is sort of fitting in that it brings Gehrke full circle in a way. "My very first job ever was working at Black Bear," she remembers, back when it was just a coffee shop after originally starting out as an embroidery and printing business selling "Vernonia" items similar to what Gehrke now sells.
In addition to her own "Vernonia" and "Vernowhere" key chains, tote bags, water bottles, pillows, and postcards, her original art work and prints are for sale (she even has a swim suit with her own original art printed as the design!), she is working on some collaborations with other local artists. She is really excited about one project which will incorporate locally made tie-dye shirts with Gehrke's designs printed onto them.
She will also be carrying a few other related Vernonia items, including:
• Mike Pihl Logging swag
• Vernonia Walking Tour books
• Voices From the Mill Pond books
• A series of small posters based on ads from the old Vernonia Eagle
Gehrke says since she opened the storefront she has been meeting so many local artists who have stopped into her store, and says the hope is to find space to include some of their work, helping create an outlet for some local artists to have their work seen, similar to the "Made In Vernonia" store Kathy Larsen ran several years ago.
Gehrke currently continues to work full-time in the printing business, now for the smaller Anchor Point Graphics in Hillsboro, so Jessie Marie Art Studio is only open weekends. Her items are also still available on her website.
But even with limited hours, Jessie Marie Art Studio is a celebration of everything Vernonia and worth a visit for everyone who loves this town.
Jessie Marie Art Studio is located at 805 Bridge Street and is open on Saturdays from 11:00 am - 5:00 pm and Sundays from 11:00 am - 4:00 pm. To see more of her work go to www.jessiemarieartstudio.com .