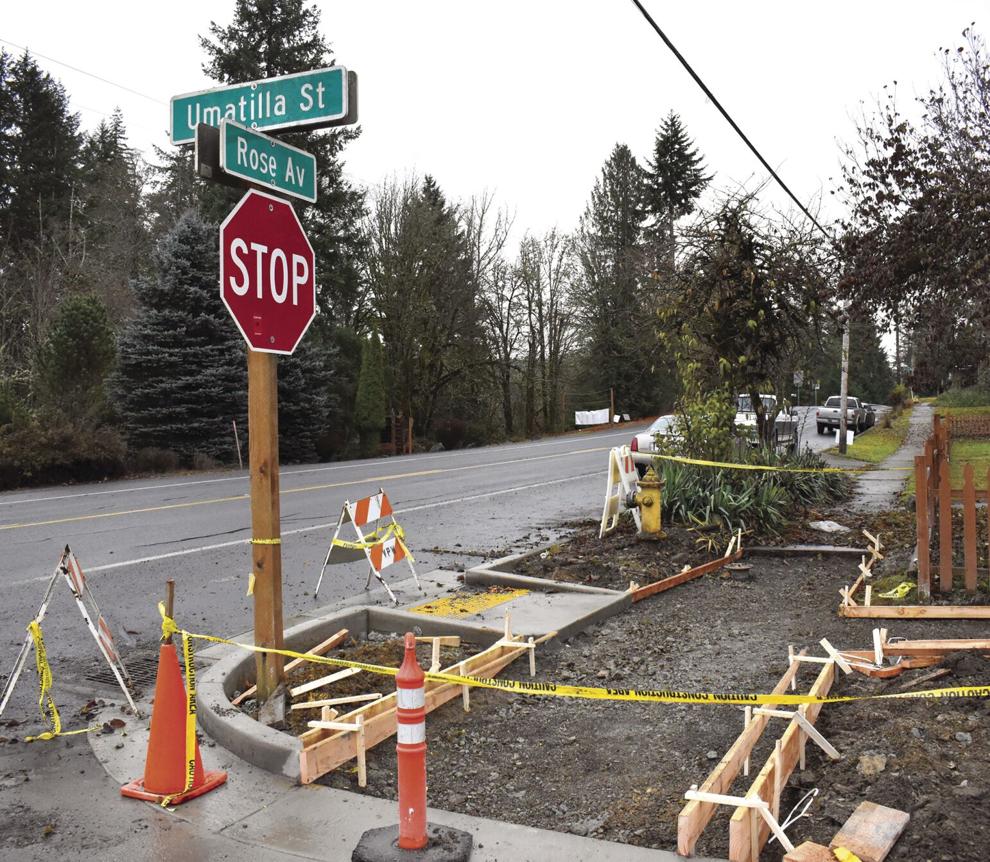 Maybe you've noticed what appears to be a never-ending project to install ADA sidewalk ramps in several spots in Vernonia. Or maybe you've read about the ongoing project in the City Council reports here in the Voice.
Recently Vernonia's Voice asked Vernonia City Administrator Josette Mitchell and Finance Director Angie Handegard why this project is taking so long, and why the City has had to tear out the work that appeared completed.
It turns out it's a complex story, that impacts not just the Vernonia community but communities across all of Oregon, and contains quite a few twists and turns. It's a huge project that started out with the best of intentions but now appears to be getting bogged down in wasted resources. As Handegard said at the start of her email explaining the finances and timeline of the project, "Buckle up!"
According to City records, in November 2019 the City of Vernonia was awarded a $100,000 ODOT Small Cities Allotment Grant. The City has successfully applied for and used these grants in the past to pave City streets in need of upgrades. "Typically that's how cities our size, under 5,000 people, make street improvements," explains Mitchell. In August of 2020 Five Star Builders paved River and Umatilla streets, and Arkansas Avenue as part of that November 2019 grant award.
As in years past, when a project is completed, Handegard sent in the request for reimbursement for the paving. "That is when we were told that any paving projects that connect with Highway 47 would also require ADA ramps to be installed per ODOT specifications," says Handegard.
ODOT is requiring cities across Oregon to install ADA approved sidewalk ramps to their specifications at any intersection that touches a state highway. These projects are the result of a 2017 lawsuit against ODOT, filed by the Association of Oregon Centers for Independent Living, which forced a negotiated settlement to make Oregon communities throughout the state more inclusive of people with physical disabilities. Instead of seeking a cash settlement, the agreement, the largest commitment to accessible transportation in state history, compels ODOT to make street crossings safer across the entire state highway system. Specifically, ODOT must install missing curb ramps, fix substandard ramps, and upgrade crossing signals. People who voiced their complaints about unsafe street crossings as part of the suit included a Clatskanie woman who was cut off from the grocery store and city hall because of a curb ramp slope that was too steep. ODOT has until 2032 to complete these projects and is requiring cities who are doing street improvements with ODOT funds to include ramp upgrades where needed as part of those Small Cities Allotment Grant projects.
Once the City was made aware of the new requirements, they requested specifications from ODOT and were told to "just pour the ramps and then someone will come out to inspect them."
In September 2020 the ramps for Umatilla and River were poured, done by a local contractor with experience in concrete work. ODOT inspectors failed the ramps because they did not meet ODOT's slope specifications, which are so stringent that ramps that are more than an 1/8 of an inch off are not passing inspection. The City then enlisted the help of their contracted City Engineer, and since the inspection had been done they were then able to obtain the reports and specifications from ODOT. After many attempts to get input from ODOT staff, which was slowed because COVID had many people working remotely, the City Engineer was finally able to work with ODOT to design the ramps to their standards.
Fast forward to December 2021 – the second attempt by the same contractor on the ADA ramps for Umatilla Street resulted in another failed inspection.
According to Mitchell, Vernonia is not the only town having trouble getting their ramps to pass ODOT inspections. She named Forest Grove and Condon as examples.
The City engineer worked with ODOT on the design changes, and an exception for the River Street ramp was filed because the terrain there makes it impossible to meet the slopes they require. The City had to find a new contractor, Parker Concrete, which has a vast amount of experience successfully installing ADA sidewalk ramps for ODOT in the Portland Metro region, and after working with them on the design specs, they poured the ramps in August 2022.
ODOT once again failed the ramps for Umatilla.  The ramps at River Street have passed inspection with the exceptions accepted. Ramps constructed at Spencer Avenue as part of a completely separate paving project that was funded as part of the 2020 Small Cities Allotment Grant cycle, have not yet even been inspected by ODOT.
Parker Concrete was in Vernonia in early December to tear out and repour the failed sections of the Umatilla ramps for the fourth time. According to Handegard the City has not yet been billed for Parker's original work on Umatilla and will not be charged for the most recent removal/repour.
To date the City has paid out $139,150 in total for this project and will recoup $100,000 from the grant. The total does not include the cost of the Umatilla work done by Parker Concrete since August. The original estimate from their work for the Umatilla ramps was $12,322, which will be in addition to the $39,150 over the original $100,000 grant the City expected to pay for the project.
"I believe these upgrades are important statewide for the Oregonians with accessibility issues, however the projects are falling on small rural communities who need the ODOT Small Cities Allotment program to improve the streets," said Mitchell. "Communities with already limited resources are having to repeatedly pour and tear out ramps in order to meet the strict specifications. It's unfortunate."
But this project also has an additional cost, although not in cash outlay by the City. State rules that govern the distribution of ODOT Small Cities Allotment Grants, only allow a government agency to apply for additional funds through the program if they have closed previous projects. With these current ramp projects continuing to fail ODOT's inspections and not considered closed, the City has been unable to apply for a grant in the 2022 grant cycle, and possibly for a second year in 2023 if the project isn't completed. "So we've missed out on potentially $500,000 of funds to pave our streets because we've been stuck with this required ramp that hasn't passed ODOT's inspections," says Mitchell.