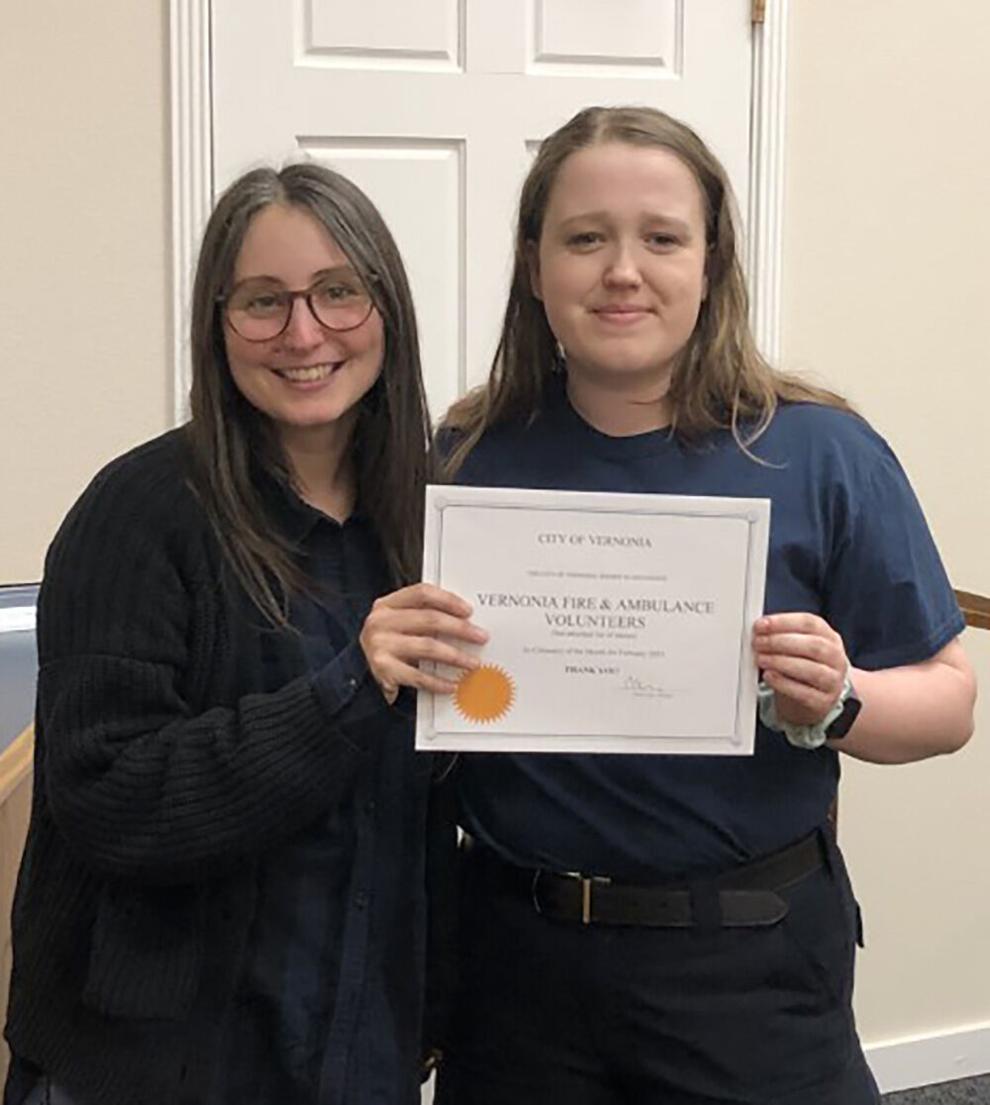 Citizen of the Month – Councilor Charise Ash (left) nominated all volunteers from the Vernonia Rural Fire Protection District and the Vernonia Volunteer Ambulance Association as Citizens of the Month. Volunteer firefighter Georgia Smith (right) accepted the award on behalf of all the volunteers. "We appreciate both our paid staff and the volunteers," said Ash. "Everyone there works very hard but I would be hard pressed to think of anyone giving more to the community in terms of training that's required, the time, the effort, the sleepless nights, and the personal risk. For them to do that for our citizens is pretty incredible."
Council Agrees to Send Comments on Columbia 9-1-1 Resolution – Council discussed Columbia 9-1-1 Communication District Resolution 2023-001 to move forward with plans to purchase a new public safety radio system from Motorola. Council agreed to have City Administrator Josette Mitchell draft and submit concerns on their behalf at a Public Hearing on February 23. Mitchell told the Board the proposal includes a partnership with Washington County. She said Tyler Miller, a member of the Scappoose City Council, has raised serious concerns about the "sole source" proposal, which would not require the County to entertain any other bids before accepting the contract with Motorola. According to information from Miller, that Mitchell provided to the Council, the cost of the project could be between $20-$35 million dollars. Vernonia Fire Chief Dean Smith was in attendance and said he was in favor of the proposal, while Mitchell said the Vernonia Police Department was against it.
Council Adopts Utility Rate Adjustment Policy – Council voted 5-0 to adopt Resolution 2023-01, a policy that creates a process for adjusting city water and sewer utility rates.
City Administrator Report – City Administrator Josette Mitchell updated the Council on several City projects, and told the Council that 1,080 seedling trees had been planted at the Mill Site.
Council Schedules Work Sessions – Council scheduled a work session for March 13 at 6:30 pm to discuss Council rules. They also scheduled a Public Hearing involving the Vernonia City Council and the Vernonia Planning Commission on April 10 at 6:30 pm regarding the City's application to Columbia County for an Urban Growth Boundary (UGB) amendment.